DIY: End Table Revamp
It's remarkable what some one can do when they wake up pre-noon and feel semi-motivated. In August I will be moving into my first apartment and I want my room to have a color scheme/theme. I'm tired of having random mismatching items and since I have lived in a dark basement for the better part of my entire life, I wanted something bright and beachy... but let's not get ahead of ourselves.
I started my day with a voyage to Goodwill.* I flung open the doors and made a bee-line straight toward the furniture. I noticed the only piece without a bright orange "sold" sticker was a lonely, scuffed up end table. I looked the table over carefully, there were no major flaws or wobbliness.* I lifted the table in a manly type of way to inspect the underbelly of the beast; not one spider web in sight. I rolled the table back over and saw the price tag, $4.95.
"Jelly Beans and Bisquick! This baby is mine!"
I skipped over (again, in a manly kind of way) to the cashier and said, "I'd like to purchase that table over yonder."* The lady leaned to look around me and lay eyes upon this lovely lamp seat. As she peered past me she proclaimed in a prominent voice, "Excuse me! This young gentleman purchased that!" I turned around and lo and behold "Occupy End Table" was upon us. The man, with his Mountain Dew sitting on my table -- without a coaster I might add -- would not stop yelling about how his wife and he wanted the table and how they were looking at it right at this moment... you know, the moment AFTER I bought it?.. Anyways, the lady resolved the situation with a quick "GTFO!" and that was that.*
I meandered around the store for a few more minutes looking for other nicknacks that I could potentially use in my apartment. I came across 15 plain wooden frames for .55-.95 each as well as 1 frame that looked like a boat. It was love at first sight.. okay not exactly. Truth is I like spending money and it was the only non-garbage item on the shelf, and I felt like I had to purchase it to justify the energy I spent to reach the back of the store. I bought all of the photo frames and drove home. I purposefully ran 2 red lights, cut off a school bus, and went 79 in a 45 to make sure the camo truck I saw in my rearview was not following me.*
I unloaded the car when I got home and thought, "I've wanted a theme for my apartment, why not the beach?" I got the table out and this is where my DIY Thursday picks up.
TL;DR - Went to store, got table, rednecks hate me, I want to paint.
For anyone wanting to do this at home you will need:
Sandpaper
Sanding Block
Sanding Block (or Sander)
Tack Cloth
Old Magazines
Spray Paint
Primer
Gloves
Mask
Screwdriver (for hardware like knobs/handles)
So here is my brand-new-to-me table:
I took out the drawer, took off the handles and sanded everything down by hand.
I sprayed a few light coats of primer on the handles, drawer, and table.*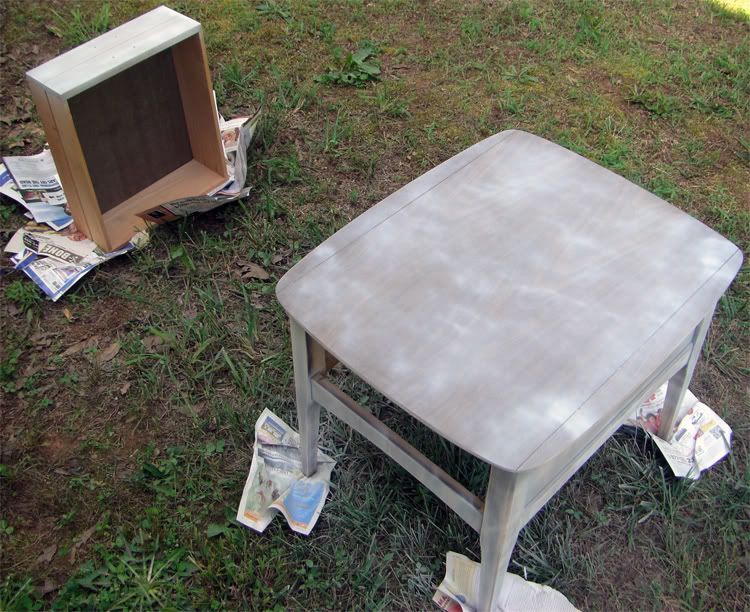 I finished up by doing multiple light coats of "Jade" Krylon Paint for the table and drawer and "Almond" Krylon paint for the handles. *I like the way the desk turned out and I think that it will make a good "beachy" piece and go well with my boat picture.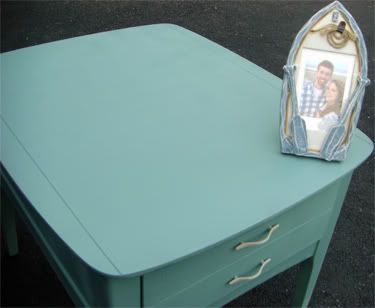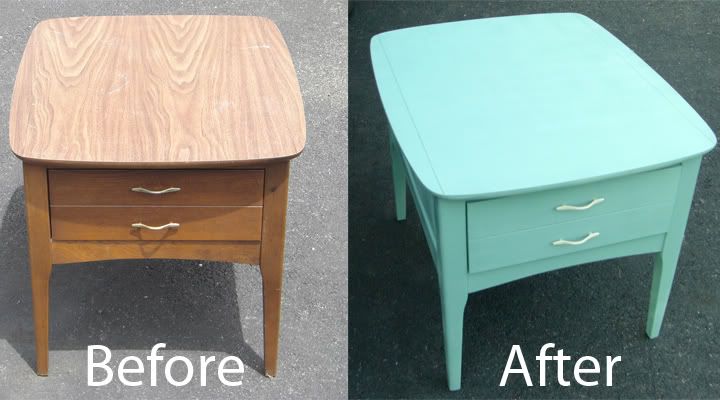 ---