A Response
Dear Regions Hospital,
I am writing to you today to express my concern about your automated billing system. You seem to have sent the attached bill of $1,438.58 to the wrong place! =( It belongs to:
Diane Ahrens Crisis
1693 Hewitt Ave
St. Paul MN 55102
Tel: 651-645-9424
You see, they are the ones that decided to waste both your time and mine by claiming 1.) I was suicidal (see fig 1), and 2.) had a plan for suicide (see fig 2). However, I would be very happy to receive information from you about how to file for malpractice, emotional trauma, and lost wages in the state of Minnesota!
PS: If you're wondering why I have it all in writing, it's because the psychiatrist that I saw decided to invite someone else into the room, and I thought it would be a private session. So I made it private =)
PPS: The psychiatrist was completely OK with me writing, and even wrote back, as you can see.
PPPS: According to you, my balance before insurance is $1,438.58, and my insurance paid out $6,072.62. Technically this means you owe me $4,634.04 (see: the bill you sent me). I would be willing to waive this bill if you simply remove this entire incident from my record. But only if I'm reading this correctly, as in the information on your bill means you owe me and not my insurance. If you actually owe the $4,634.04 to my insurance company, then I wish you luck. If there's one business more strict about getting paid every cent than a hospital, it's an insurance company.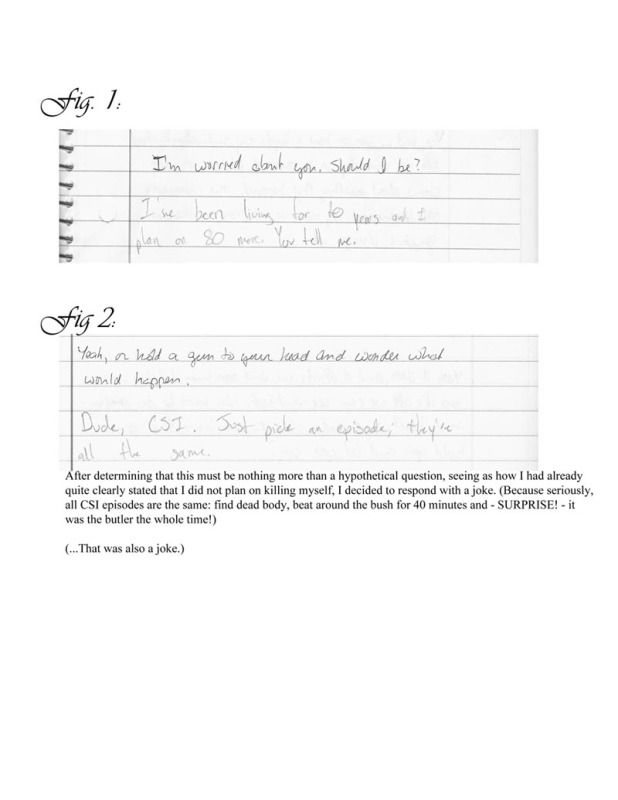 ---